Boost your path towards success with IT Industry
Learn How to Create Responsive Websites Using HTML and CSS.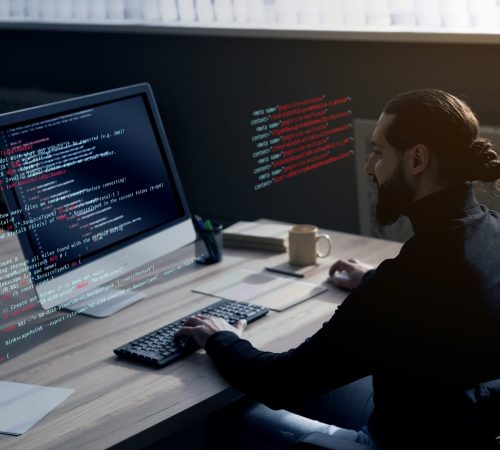 The two cornerstones of web development, HTML and CSS, are utilized to build the web pages you encounter every day.
HTML provides the framework for your website's code, while CSS adds style to give it a more appealing appearance. A solid understanding of HTML and CSS is essential for those aspiring to work as front-end web developers or web designers.
HyperText Markup Language, or HTML, is a programming language that is used to build websites and web-based applications. CSS, which stands for Cascading Design Sheet, is used to design your web pages.  It controls the typography, colors, and other styling features you see on a web page.
Teaching environment it's goods, computer is goods to use .
Good classes and very nice teachers and sir 👍
Prince Kaushal
2023-08-18
I love being in the class the staff was whear very good
I loved being in the classes, the staff was where very good they also provide good study material.
Tushar Jinjothe
2023-07-20
Teachers r teaching well
AMANDEEP JIGNESH
2023-06-21
Amandeep Jogadia MSCIT I thoroughly enjoy learning through Anubhav Computer Institute.. Highly recommend. Kind and helpful teaching faculty.
Ansari Rahila I am Rahila Ansari anubhav class students I am very happy to join the this class
This course provides comprehensive coverage of HTML and CSS from scratch. While HTML and CSS allow you to achieve visual results on the screen easily, it is crucial to have a solid understanding of proper semantics and accessibility.
HTML serves as the fundamental building block of a website. Mastering this programming language will provide you with a thorough understanding of how web pages function and other essential concepts.
CSS is the language responsible for designing visually appealing websites. With a basic understanding of CSS concepts, you can quickly create stunning websites that captivate internet users worldwide, whether you aim for an elegant or minimalistic look. Our unique approach involves explaining concepts step by step, ensuring that you fully comprehend how they work.
Get in touch with us directly by visiting one of our
locations,  and get enrolled in placement-based courses.
All courses include a modern curriculum that is tailored to help students advance their careers. Every student has a unique system at our educational institution so they can study more effectively. We have a strong presence in the Five locations in Mumbai, and all of our instructors are technically proficient due to the daily training they offer to preserve their knowledge and competence. 
Enroll in The Best training Program and Give Your Career Amazing Boost